Hamburg WTS race report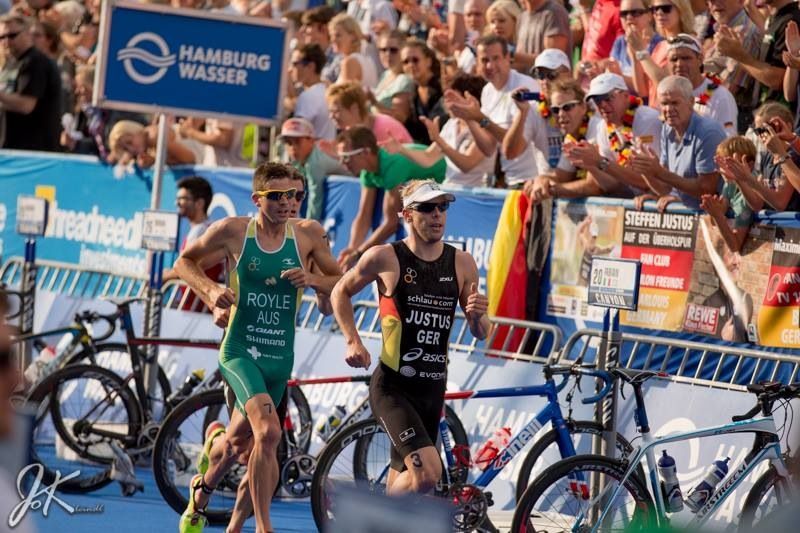 I say it ever year, but zee Germans sure know how to throw a Triathlon – and play a game of Football! I've got to believe the support on course is by far the best on the entire ITU circuit!
This was my 3rd year racing in Hamburg and I was looking forward to testing myself over a sprint race after a hard 4 weeks of training.
The swim in Hamburg is pretty important with a short distance to the first turning buoys (270m) where you turn back on yourself. Because of this it seems to be pretty congested unless you can get around the first buoy towards the front end.  I had a good start and got to the first buoy in the top 15 and then gassed it for the next 200metres until I thought I was in a reasonable position to be in the front group.  I exited the water in 8th 10 seconds down on the leader and within the main players.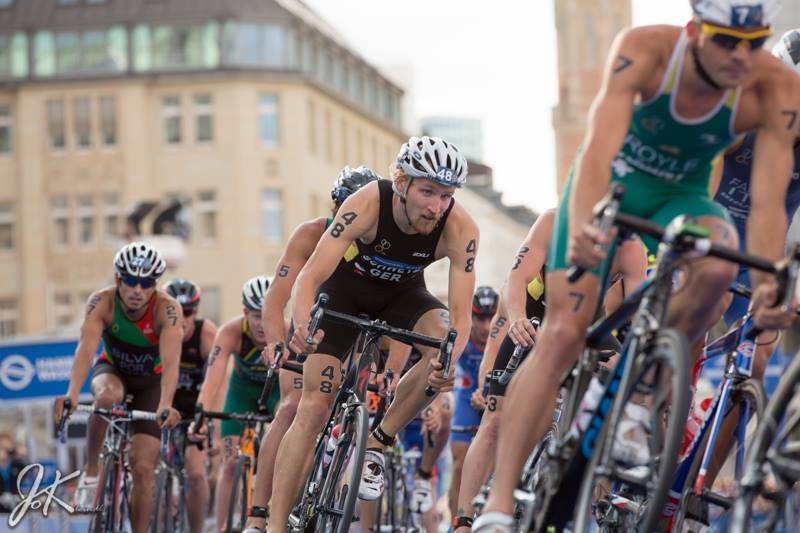 The bike was on from the start and I struggled initially to find my riding legs. After a few minutes I was able to start rolling turns and see who was in our lead group and who was in the chase group. The usually players in the Brownlees, Gomez and the French were there, along with some Germans, Kiwis, South Africans and Russians. In all there was around 20 in the lead group with a gap initially of around 20 seconds to the chasers. For the first 14km we were able to roll consistent turns and increase our lead to around 40 seconds on the chase group. In the last 6km we eased up a little as we started focusing on the run and the chase group got the lead back to around 30 seconds coming into t2.
I started the run feeling a bit off and I never really felt in total control – I guess in a sprint race you never really do as it's on from the start. I ran with a couple of others from our group and just concentrated on trying to stay relaxed. I was feeling ok, but I was lacking a little bit of spark, that extra couple of precent that you need when competing at this level. I crossed the line in 12th place.
I'm back in Vitoria now for just under a week getting in the last bit of training before flying to Glasgow on Sunday. I race on Thursday the 24th (midnight EST time) everything has been going well and I am starting to get excited about getting to Glasgow.
As always thanks everyone for the nice messages, emails and comments, I really appreciate everyone taking the time to send me messages.