ITU World Triathlon Championships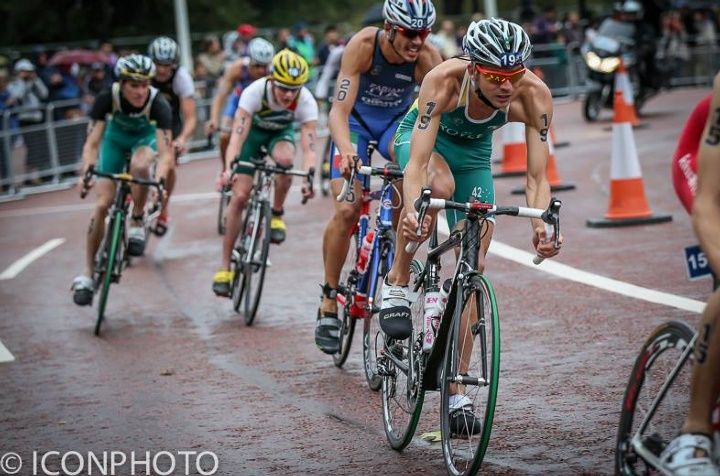 I'll keep this race report short and sweet – last Sunday I competed for Australia for the first time as an elite athlete at a World Championship grand final. Wearing the green and gold is always special, but to wear it as an elite at major championships is truly an honour. There were times this season that I didn't think I would be on the start line in London, so to be there and be there in decent shape is something that I am extremely proud of.
I finished 7th and booked my spot for next years Commonwealth Games.
I gained confidence in watching my 4 training partners all have good races in the U/23 race (with special mention to Charlotte for winning!). It's always a good sign when people you train with race well and I definitely used their success to my advantage.
The race itself went well. I was able to get onto Triathlons super fish Richard Varga's feet and exit in second. The ride was fast and at times hard, but I was preferred for this and maximised every opportunity to help push the pace. I ran out hard, not really as a strategy, but more so because was feeling good. I faded a little towards the end, but I am happy with how I held it together over the entire 10 kilometres.
I didn't go into this racing chasing the top 8 standard for Commonwealth Games; in fact not even a word was spoken about it between Jamie and myself. Selection was simply a by-product of putting together a good swim, ride and run.
I ended up finishing 11th in the ITU World Triathlon series, 1 sport shy of my goal at the start of the year, but also a big improvement from last year.
I end my ITU season happy with how I went. As always I learnt a lot and as always the bar was risen to a new level – something that I will aim to move even closer to over the off – season. My season though isn't completely over yet, as I am back in Spain training for the last French Grand Prix race in Nice in two weeks. After that I am returning to Australia where I will be joining the start line with the rest of Australian pro Triathletes at Nepean and Noosa.
A big thankyou to everyone who has sent messages of support since the weekend, it has been very humbling.