Noosa Triathlon 2014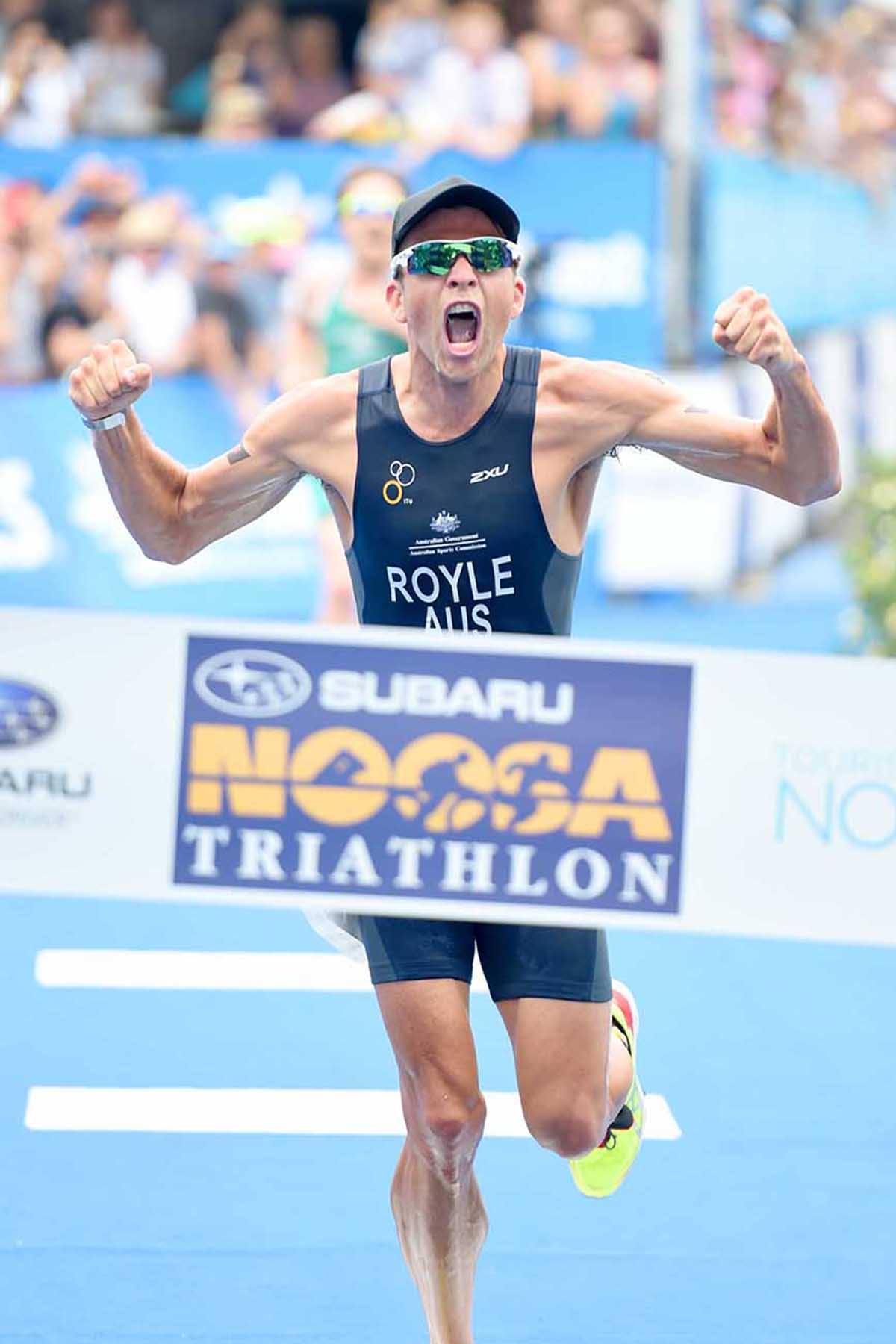 With the weather warming up, the flowers flourishing and the equine industry heating up it meant one thing – Noosa was just around the corner.
I was fortunate to win last year on debut. I guess I always knew how big the Noosa triathlon is in Australia and world wide, but without experiencing it prior I was able to head up last year without any pressure. This is was a little different. Whilst I honestly didn't feel any extra pressure being the defending champ, I did have to deal with  a lot of extra commitments that comes with being the previous winner.
I knew I was in good shape leading into Noosa. I had been training hard in Wollongong and I had some good hit outs leading in, winning the Fernleigh 15 (A 15km running race in Newcastle) and the Nepean Triathlon the week prior. But in elite sport you can never be too sure.
My alarm went off at 3:50am a little.. Actually A LOT earlier than what I am use to for a 6:15am race start. Trying to eat that early isn't the easiest, so I just had an Endura Energy bar, washed down with a coffee and tried to stomach a muffin.
I wanted to start on the opposite side to Shane Barrie. The reason being is that I knew he would be one of the stronger swimmers in the field, by starting next to him would bunch those behind and give an easier sit. Instead I was aiming have the stronger swimmers start at opposite ends and hope that it would spread the field out a little more. My aim was to go hard for the first few hundred metres and then come across to where Shane was swimming. I'm not sure if it worked, but coming out of T1 a few big players were too far back out of the water to factor into the rest of the race. The swim itself wasn't too eventful – Shane lead the swim for the first 1000 meters until I came past and lead the last 500.
After leading the swim out and having a quick transition I found myself leading onto the bike with a little gap. Nothing huge, but it put me in two minds on whether to commit fully, going solo for the 40 kilometre bike leg, or whether to sit up knowing that with a group of 10 behind i'd more than likely get caught. A combination of being hesitant in going solo and a lack of total commitment I was caught only a few kilometres into the bike leg. Once caught I assessed who was in the group and who wasn't. The majority were ITU guys who I knew well with the exception of a few who I hadn't raced much. Heading out to the hill on the first lap I came through to the front a few times along with Bailie and Casey Munro who was doing most of the work on the front.
The pace was pretty pedestrian before the hill and I knew speaking to Ryan before the race that he was going to give it a shot on the hill to try and drop a few passengers. Bailie picked the tempo up on the hill which strung the riders out a little and then Munro came past him out of the seat. I got caught napping behind Wilson and Good who let a dangerous gap open to Munro and Bailie. I went around Good and Wilson as we crested the hill and started the chase to Munro and Bailie which had probably opened up 100metres. As I brought the margin down to the two in front I looked back to see if anyone was going to help me close the gap; but I was shocked to see that no one was immediately chasing. I put my head down and closed the gap to Bailie and Munro as quick as possible. I looked back again and I could see that we still had a gap but those behind were chasing hard. Bailie, Munro and myself did a little bit to try and get away but the guys behind caught up soon after and we were back  riding in a pack of 10. Munro attacked again just before the turn around and with him getting away by himself we decided not to chase. Munro did a great job out in front but I knew we didn't have to be too concerned unless his lead got to over a couple of minutes. Coming back into town it was a little frustrating as those left in our group were looking at each other and not really interested in riding hard. I came past Pete Kerr with a couple of Kilometres left in the ride to lead our group into T2. Reports were 90 seconds to Munro and 60 seconds to Ben Shaw who had skipped way in the last 10 kilometres.
I wasn't feeling too flash starting the run, so I was pretty happy to let Pete Kerr take up the early pace setting, followed by Cam Good as we headed out. We had caught Ben Shaw after a couple of Kilometres and Casey not too long after. Now we were running for the win. Our run group of 5 included Good, Kerr, Wilson, Bailie and myself – guys that I know well and raced many a times over the years. I found my running legs not too long into the run, but I was still happy to leave the early pace setting to those around. As we turned Cam was the first to start the surges and as we become closer to the finish the surges became more frequent and painful. I put in a couple of surges to try and see who was feeling strong and who wasn't. Cam was the first to fall victim to the pace change and with about 3kilometres left Wilson, Kerr, Bailie and myself were left fighting for the win. The surges continued until Pete dropped off the pace with just under 2 kilometres left; at this point the tempo stayed on as Wilson, Bailie and myself were left. Those that watched Auckland WTS would remember that us 3 had a sprint finish for the bronze where I got overtop of Dan and Ryan. Of course I was confident in my sprint, but when its that close coming into the finish the margin for error is so tiny. The fastest doesn't always win; it comes down to who has positioned themselves correctly, who makes their  move at the right time and who can hold form and engage their speed after close to two hours of racing. I envisioned that it would come down to a sprint finish prior to the start, so I made sure I ran the last 500 metres in my warm up and pin pointed exactly when I wanted to be in front and when I wanted to make my move for the finish line. When I saw the finish line, I went with everything I had and total commitment. I can't really remember too much of the sprint, as you normally don't. I do however remember thinking that if Dan and Ryan come around me now then there isn't much I can do as I was giving it everything.
Those that were there and those that have seen the footage and pictures could tell how pumped I was to win that one. I can't remember what I was screaming down the finishing straight, but to be honest it probably wasn't anything in the english dictionary. Winning in a sprint like that always brings out that bit of extra emotion, but to do it in Noosa and going back to back was pretty special.
Well done to Dan and Ryan for their 2nd and 3rd and for making me work for it.
After a year with many ups a few downs, a lot of traveling and racing my 2014 is now done. Reflecting on the year it has been a pretty good one. I had my first WTS podium in Auckland, a teams bronze at the Commonwealth Games, a top 10 in the World Triathlon series and going back to back in Nepean and Noosa.
Thanks to my family, coach, sponsors, friends, the Wollongong Wizards, those who inspired me, those who pushed me and those that cheered. Bring on 2015.